Ricoh Global SDGs Action is a month long event starting on June 1, to encourage Group company employees to think about how to achieve the United Nations Sustainable Development Goals (SDGs) and to take action with a sense of global unity. We aim to accelerate our contributions towards achieving the SDGs and encourage all employees in the Group to think and act, not only by doing eco-actions such as global warming countermeasures toward realizing a zero-carbon society, but also by addressing a broader range of social issues.
We aim to leverage the know-how that we have built up through our Global Eco Action events since 2006, and work together with customers and societies across the globe, as we expand our actions to help achieving the SDGs.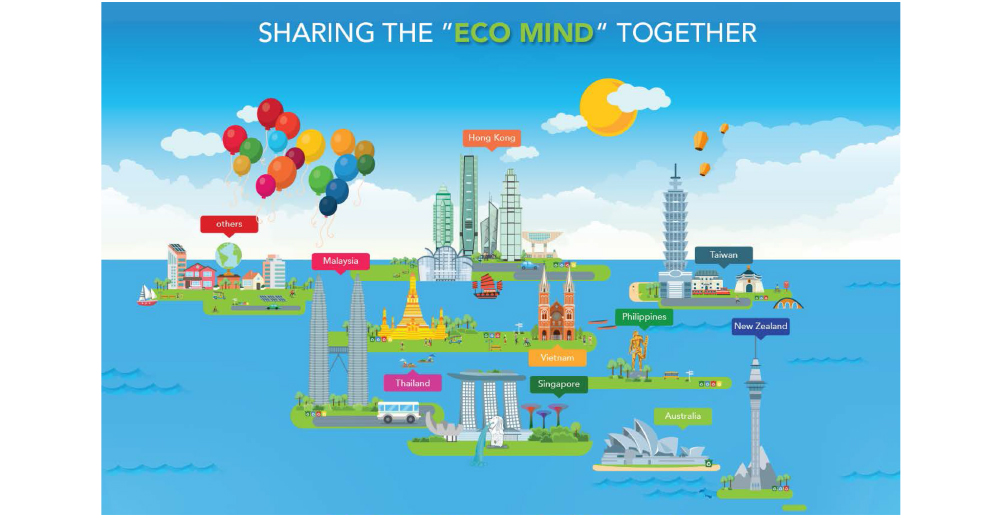 You can play your part by simply committing your pledge at our regional Global SDGs Action website. Companies can also make a difference to the environment, and counter the climate change by inculcating green practices in their office.
Eco Action Day is a national public awareness campaign organised by Ricoh Asia Pacific since 2007, in partnership with key NGO, government, and private sector partners in Singapore. The campaign is designed to drive awareness and action for the environment and celebrate the United Nations (UN) Environment Programme's World Environment Day, held on 5 June annually, which seeks to raise global awareness on the need to take positive action for the environment. Every year, Ricoh, along with various supporting partners, engages its employees, customers, corporate neighbours and government organizations and the wider public to take steps to reduce their impact on the environment. More than 1,400 organisations, including multinational corporations, government agencies, private companies, and tertiary institutions have participated in Eco Action Day.
In 2017, we integrated the UN's Sustainable Development Goals (SDGs) as part of the campaign by organising Roundtable to address various topics on specific SDGs. The annual event concludes with a post campaign report with research findings of the key points raised at the roundtable.
We have also initiated the inaugural community seed distribution in a bid to cultivate sustainable production and consumption for the local community.
For further information, please visit www.ecoaction.sg
Ricoh Asia Pacific is the first private company to be awarded the Eco Office Certification in 2004. This certification recognised Ricoh's efforts towards turning its office to an environmentally friendly working environment basing on specific environmental criteria. It is important to walk the talk and demonstrate the actuality of a sustainable office. As one of the pioneers, we began to conduct eco office tour in our premises for government agencies, business organisations and schools to share on Ricoh's sustainable office management, understand the various green practices in place and how we go about doing our part for the environment. While engaging through the tour, these participants can bring back ideas to facilitate their organisations to embark on eco practices within their own premises. More than 200 organisations and schools have benefited from Ricoh's unique Eco Office Tour.
We are also featured in one of the case studies for National Environment Agency's 3R Guidebook for Offices. This guidebook is initiated by NEA's Waste and Resource Management Department and is scheduled to be launched and made available in the NEA's website.
Ricoh Asia Pacific supports and participates in the annual "Clean & Green Week" and "Clean & Green Singapore" campaign initiated by National Environment Agency since 2005. We have organised annual tree planting activities at places such as Bedok Reservoir, Republic Polytechnic, Bukit Batok Nature Park, Sentosa's Mount Imbiah, Fort Canning Park, Istana Park, Ang Mo Kio Garden & Park and Punggol Promenade.
We involved in the Garden City Fund's "Plant-A-Tree" program and the Butterfly Trail @ Orchard project by Nature Society to support Singapore's reforestation activities.
In 2019, we kicks off our inaugural community seed distribution initiative to the community for their ease of harvest in Singapore's tropical climate and to support Singapore's "30-by-30" vision to produce 30% of Singapore's nutritional needs locally by 2030. We hope that this initiative will cultivate sustainable production and consumption habits by encouraging the public to plant and harvest their own fruits and vegetables.
Becoming the "Friend of Water" by adopting the Marina Reservoir in 2014 is yet another step for Ricoh Asia Pacific, as an organisation, to reach out to wider public, including the staff and customers in the area of water conservation. We are the initiator to translate and produce the Marina Barrage brochure in Japanese, which is readily available at the visitor centre.
We have participated in Public Utility Board (PUB)'s Active, Beautiful, Clean Waters Programme by organising four Water Trails for the staff, namely at Marina Reservior, MacRitchie Reservior, Lorong Halus Wetland and Sengkang Floating Wetland.
In commemorating the World Water Day, together with PUB, we volunteered to produce the awareness posters in Japanese version to reach out to all Japanese Kindergarten, Primary and Secondary schools in Singapore. This initiative enables the Japanese community and the Japanese students to have a better understanding of the World Water Day and the importance of water resources in Singapore.